Treehouse Tales #22: Webinars & Reopening

Treehouse's Reopening Date Set for October 14!
Treehouse's Board and staff have set a new target opening date of Wednesday, October 14, 2020 for members only. Treehouse will only be open to members in October, and free member tickets can be reserved beginning October 1. Please note that this is a target opening and is subject to change. Your membership will be automatically extended for all the time Treehouse remains closed due to the pandemic.
Watch for details about an online version of our popular On Track to Reading program and our Alphabet Soup program coming in October which will be free for members, too.
Register for a Treehouse Author Talk Webinar
Here are 4 new ways to stay involved with Treehouse. Register your family for a free Treehouse Author Talk Webinar that is part of our Learn Together series of activities. At these Webinars children's book authors, storytellers, and film makers will talk about their work and then answer your questions. Your whole family will enjoy meeting these amazing guests and interacting with them. Hosted by Treehouse resident Emcee, Wes Whitby, our Programs Manager, the Webinars will be lively and fun.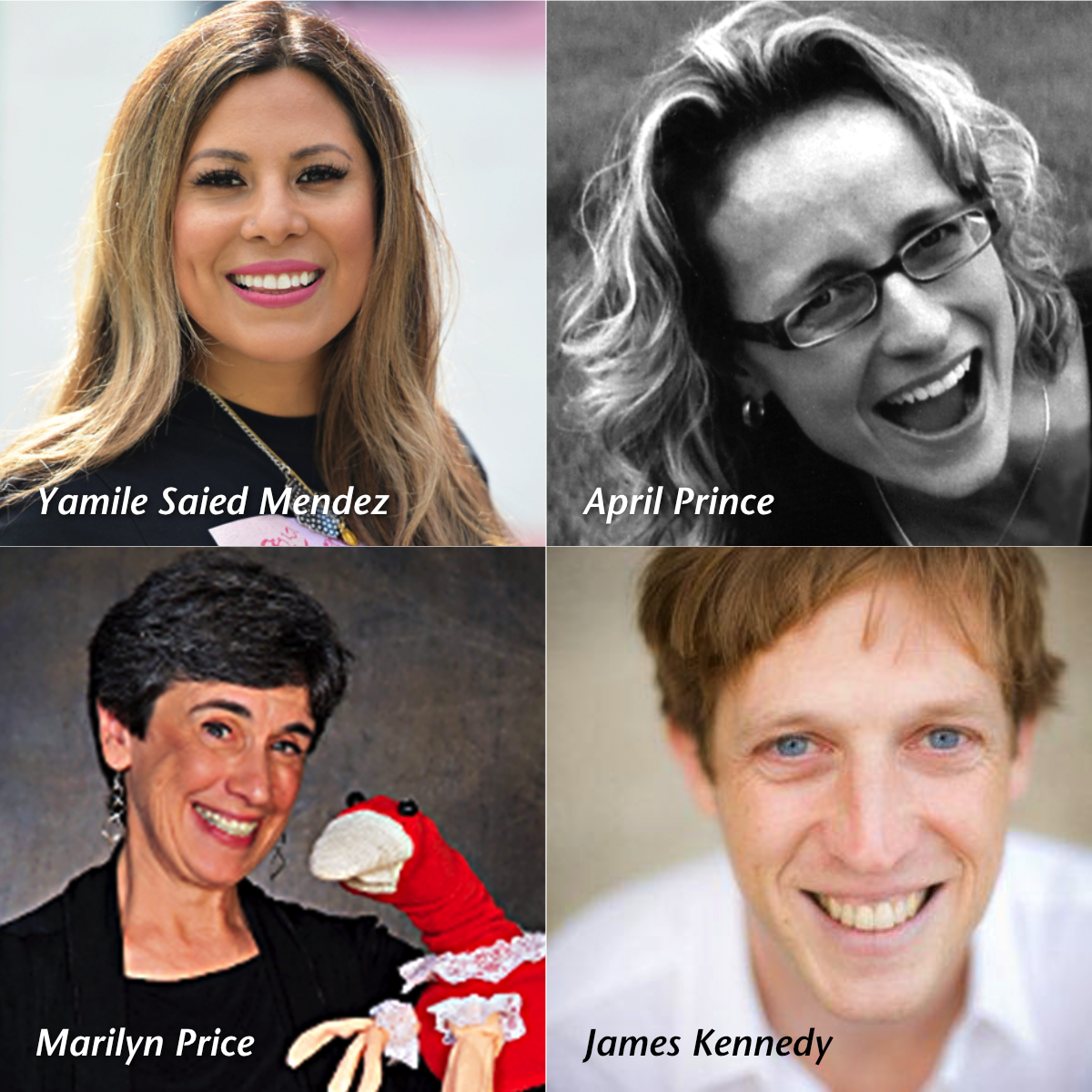 Saturday, September 19, 2020 at 6 p.m. meet Yamile Saied Mendez, author of the award-winning and timely "Where Are You From?"  Click here to register for Yamile's Webinar.
    Saturday, October 3, 2020 at 6 p.m. see James Kennedy and the 90-Second Newbery Film Festival, showing short movies made by young people that tell the story of a Newbery Award-winning book in a couple of minutes. Click here to register for James's Webinar.
    Saturday, October 10, 2020 at 6 p.m. it's a Pirate Party with children's book author April Jones Prince, who'll talk about her delightful "Goldenlocks and the Three Pirates" and then take your questions. Click here to register for April's Webinar.
    Thursday, October 15, 2020 with storyteller Marilyn Price, who will share a favorite story with the help of "found puppets" and she'll help participants make their own puppets to keep telling tales at home. Click here to register for Marilyn's Webinar.
These webinars are part of the Utah Humanities Book Festival and are supported by Weber Book Links, Friends of Treehouse, and the Utah Humanities Council.

Get involved in the annual Treehouse Storybook Gala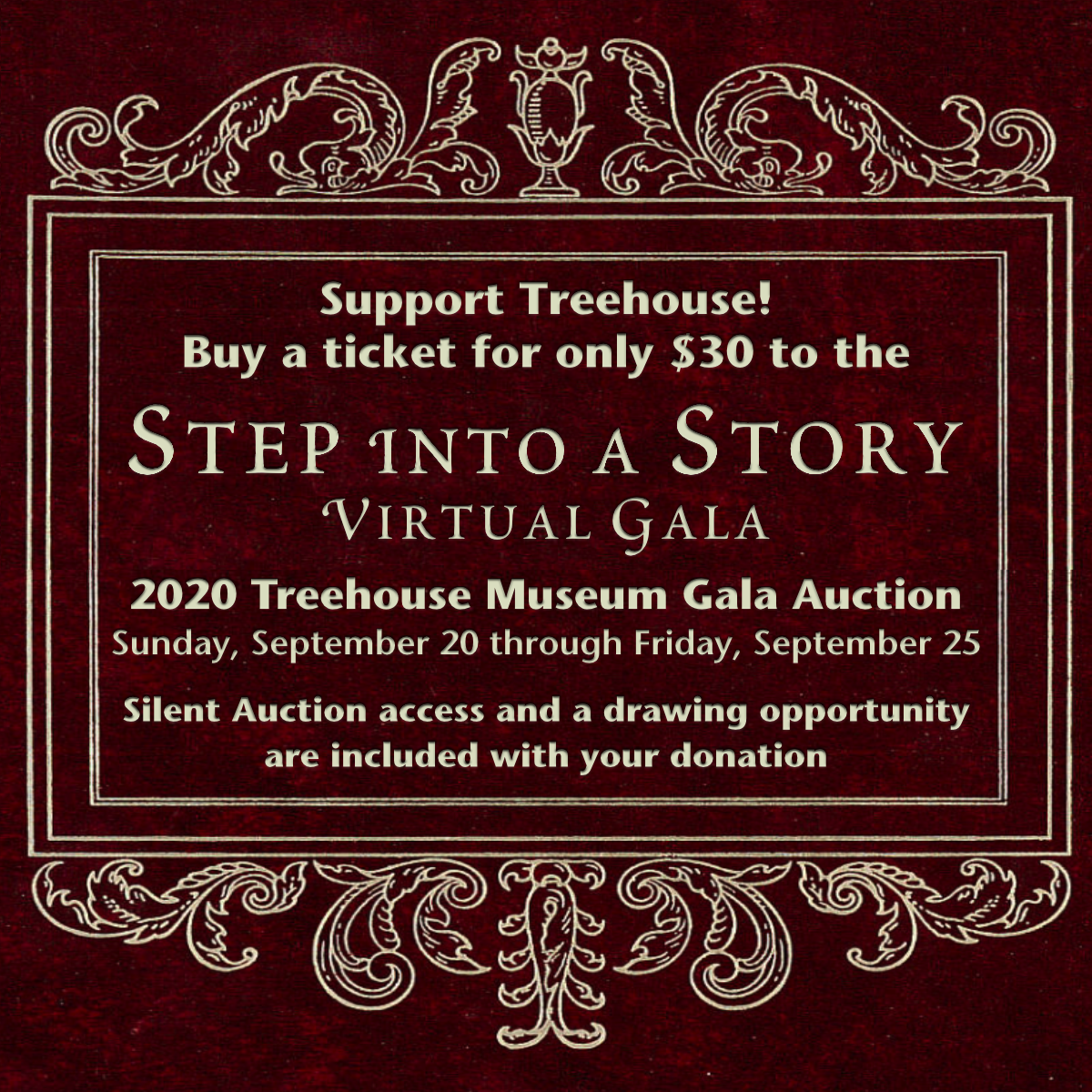 If you'd like to support Treehouse you can donate $30 for a Storybook ticket that lets you bid in our online auction and be entered in the best prize drawings around. The auction offers more than a hundred amazing items, donated by local businesses, that range from inflatable paddle boards to a complete Backyard Movie Theater Set Up with a giant screen and sound system and even a popcorn machine. There are unique children's toys, home and garden items, beautiful artwork, and much more.
The prize drawings give participants a chance to win weekend stays in a luxury condo in St. George, Gift Cards to Walmart, an iPad, and more.
Because the Annual Gala is Virtual this year, the auction opens online on Sunday, September 20 at 7 p.m. and finishes on Friday, September 25 at 9:30 p.m. Winning bidders can pick up items on Saturday, September 26 between 10 a.m. and 2 p.m. Prize drawings are shown on Treehouse's YouTube station at 7 p.m. starting on Monday, September 21 and continuing each night through to the final drawing on Friday, September 25 at 7 p.m.
There's even an option to donate more and participate in a Storybook Party where a catered dinner for 8 is delivered right to your home. To learn more or to reserve Storybook Tickets, visit our website with this link.
Count with us on Youtube
Just in case you missed it, Treehouse has a new math video for you called "Counting Fish," featuring Kindergarten teacher Miss Bindergarten and Treehouse Programs Manager Wes Whitby. If you enjoy it, be sure to like and subscribe to our YouTube Channel for more great content.
Meet Some of Treehouse's Creative Friends
For the past few weeks we've been posting about some of our wonderful Treehouse friends. On these pages you can read about children's book authors, educators, illustrators, and Treehouse staff members, including lots of downloadable coloring pages by our favorite artists. If you want to see these special posts, you can click here to go to the Features section of the Treehouse website, or use the site's menu bar to navigate there.